A question we constantly ask ourselves at Syncolite is that how do we work towards creating even more value for our customers. One way is to develop progressive solutions that enable increasing energy efficiency, by way of innovative and value driven products, products that would help significantly bring down operational costs of facilities and buildings.
One of the things we noticed while interacting with our customers and visiting various facilities is that there is a greater scope for effective lighting management based on such factors as occupancy and the amount of daylight available inside the facility. Such lighting management can greatly reduce the overall cost of operation compared with unmanaged systems (such as 3rd party stand-alone sensors) resulting in even more value for customers. It is this motivation that drove us to develop our current flagship product, a sensor based 2X2 fixture called the SIRIUS SENSOR LED. The SIRIUS SENSOR LED is integrated with an intelligent sensor that is able to profile the amount of light required for the environment by incorporating factors such as occupancy.
The Sirius sensor LED fixture is radical in more ways than one, making it an intelligent, effortless and an extremely cost effective way to save energy. Some of its key features are enumerated below:
Advanced Occupancy setting
• Combining sensor and advanced logic, the system detects if the room is occupied (or unoccupied)
• When unoccupied the light will dim down to the selected level. Thus, enabling greater power savings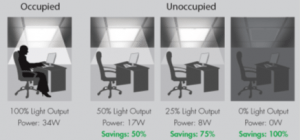 Customizable 
• Based on the requirements, the dimming levels can be user selectable between 0% and 100%
Wide Detection Range
• Range of 5m radius with 360 degree field of view
Plug and Play Installation
• Integrated sensors allow for easy retrofit solution with no additional wiring thereby eliminating any 3rd party requirements and cost reduction in installation.
So, smart lighting systems that are effectively able to communicate with its environment with the help of intelligent technology are the way forward. Syncolite has recognized this early and is at the forefront of this innovation with the development of the Sirius sensor LED system and much more to come.